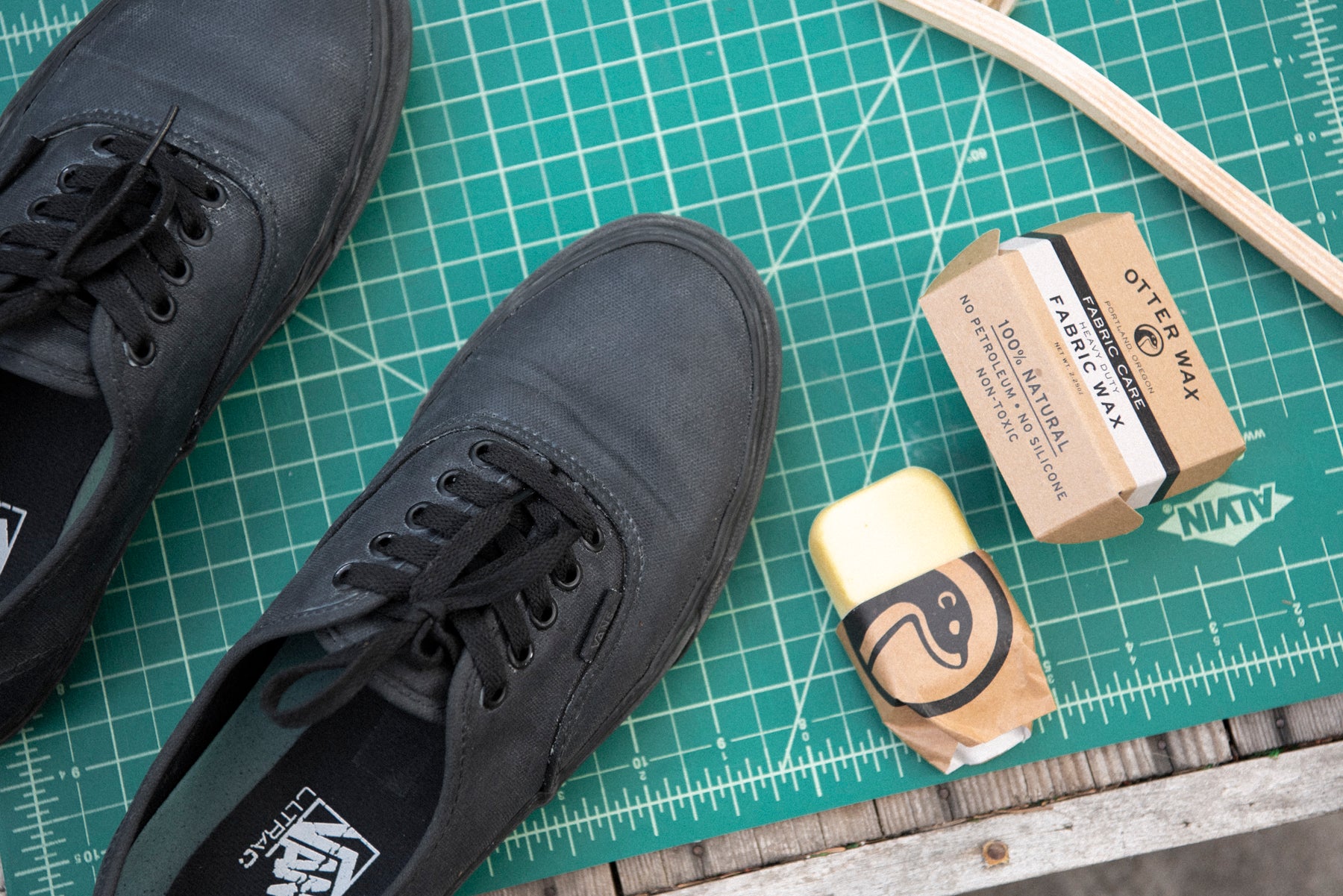 Waterproof Vans Sneakers With Otter Wax Heavy Duty Fabric Wax
Our resident photographer Thomas gave us the idea for this project, which was surprising because we're not sure if we've ever even seen him
not
wearing this pair of sneakers. As an avid skateboarder, cyclist, and nature photographer, these sneakers were, let's just say, a little ripe. But it was nothing a few sprays of our
Odor Eliminator
couldn't handle, and before too long we were back in business and ready to wax these up.
The outside of the sneakers was surprisingly clean, so all we had to do to was brush them off to make sure that the surface was free of any dirt, dust, or debris.
If your sneakers have any mud, caked on grime, or stains, we recommend cleaning with our
Spot-Cleaner
before applying wax. Having a clean surface when waxing an unwaxed fabric is super important because anything that isn't removed will get permanently sealed in under the layer of wax when applied.
Push a couple inches of the wax bar out of the protective sleeve and fold the ends over. This helps you to keep a good grip on the wax and allows you to nestle it into your palm so that you can apply downward pressure when rubbing the bar back and forth. That friction helps the wax to warm up and spread out across the fabric easier.
Use the sharper corners and edges of the bar to wax corners, seams, and other difficult-to-reach spots.
Once you've given the sneakers a thorough coating, rub the wax into the upper layer of the fabric to help smooth out any uneven spots and create a nice smooth layer of wax.
Expect the sneakers to be slightly tacky to the touch for about a week. Feel free to wear them right away, but just be careful to keep dirt and pet hair away from the fabric until it's fully cured as it'll still be a little tacky. Cure time depends on any number of factors. For example, you can expect it to take longer for your wax to cure in cold and humid conditions or if you've applied a really thick layer of wax. You can expect your wax to cure faster if you're waxing in a place that's hot and dry, or if you've applied a really thin layer of wax.
Most importantly, make sure you get outside, get some fresh air, and enjoy the look and functionality of your newly waxed sneakers.